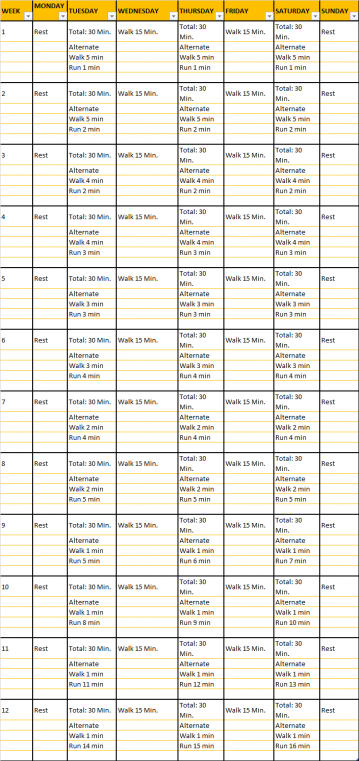 With the weather warming up and the Boston Marathon around the corner many people are thinking about running their first 5k road race.  Going from no running to running a 5k road race can seem like a daunting task.  With the correct training plan to slowly build up your running fitness most people can reach the starting line of their first 5k healthy and ready to run. 
Running Tips 
Footwear:  Getting fit for a proper running shoe at a running store is a must.  Shoes are one of the most important aspects to run healthy.

 

Walking:  Don't be afraid to walk.  When building up to run your first 5k, planning in walking or walking when needed is an important way to help build your running fitness.

 

Find a Friend:  Running with a friend or running group provides support and accountability.

 

Consistency:  The single most important aspect to improve running fitness consistency.

 

Nothing New on Race Day:  It is tempting to try something new on race day.  JUST DON'T!!!!  No new shoes, no new outfit, especially no new nutrition.  Everything on race day should have been tried and tested during your training plan.

It takes time!!!!!

  Starting into running takes time, some suggest 30 minutes of non-stop running as the turning point, it may take 6-12 weeks before running feels comfortable.