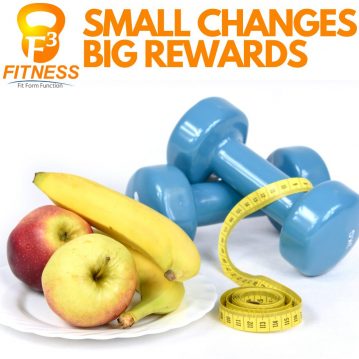 I am so pleased to share with you that to kick off the New Year, I am teaming up with Sandy White, Integrative Nutrition Certified Health Coach to offer a fantastic 90 day personalized online program, Small Changes, Big Rewards, for those who are looking to jumpstart their wellness journey by making small sustainable lifestyle changes that will not overwhelm you, but over time, can make a significant impact on your fitness and wellness.   
If you have ever approached New Year's Day knowing you want to change your lifestyle, you may have looked toward the latest fad diet, only to find that it was too restrictive and impossible to maintain long term.  
Research consistently shows that for most people, making small but manageable lifestyle changes are much more likely to be adhered to long-term, and become lasting habits. Over time, these small changes can add up to big rewards, generating the greatest health and wellness benefit.  
You do not need to restrict calories to the point where you are hungry all the time!  Exercise need not be excessive, but it should be smart and consistent, with an eye toward injury prevention. This program has you well covered there! If you want to make the best use of your time and/or you are concerned about injuries or other issues that have held you back from exercise, Mike is perfect for you. Mike is a Chiropractor (DC) and Certified Strength and Conditioning Specialist (CSCS) with an extensive background in training people with injuries, and he works with various levels of fitness abilities. His workouts are fun and engaging and he will customize these workouts to meet your goals. I have worked out with Mike for 8 years, and I sometimes can't believe that I have maintained my workout schedule with occasional interruptions. For me, the workouts are still fun and challenging and I leave feeling strong and healthy! 
The Small Changes, Big Rewards program is delivered to an app on your phone, so you can participate anytime, anywhere and it goes from January 11 through April 12. 
 Here is what you get from this program: 
NUTRITION
6 live nutrition focuses
Zoom
webinars 
(or replays if you can't make it live)
where you will get:
Education around creating a healthy terrain in your body to prevent disease

 

S

tep by step

changes to your food so that you gradually "crowd out" foods that are not serving your health.

 

Loads of delicious, easy to prepare recipes

 

Help with meal prep and meal planning

 

Education surrounding reading labels and shopping for the best foods to fuel you.

 

A

ccountability and coaching around challenges that are holding you back from success. 

 

Guidance on

sleep, self-care,

reducing stress and creating balance 

 

Email support in between webinars
Online Personal Training
 Think of this as having a personal trainer on your phone who will hold you accountable! You get: 
Consultation and fitness

assessment with Mike

via Zoom

 

90 days of customized workouts to meet your goals.

 

Anytime access to your trainer via messages

.

 

Feel like slacking off

? Y

our trainer will give you a

virtual

kick in the but!

 

Demo videos of all exercises including commentary and text

 

F

eedback

on your form,

to help you perform movements correctly

 
Group Support!
The support of a group, all making changes together, can often be a big motivator to help you stay on track! In the Small Changes Big Rewards New Year program, you will have the support of fellow participants all doing the program at the same time as you are, via a private Facebook group. Share successes and struggles, pictures of your healthy recipes, and stories from your journey with a supportive group who are all in this together!  
This incredible program, which combines 3 months of personal training, personal coaching and group costs $600.